19 Nov

What is transitional care?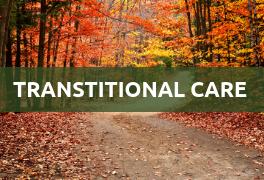 Transitions can be difficult—returning from a hospital or nursing home is an adjustment for the patient and family. Transitional care can help ease this transition and give patients and caregivers the tools they need to manage their healthcare.
What is transitional care?
Transitional care serves as a 'bridge' for patients who were recently discharged from a hospital or nursing home. A nurse practitioner visits the patient and provides care at home or at the patient's facility, until they can return to their primary care physician's office.
Working collaboratively with physicians, social workers, pharmacists and others, our transitional care teams develop realistic goals and individualized care plans that empower patients and caregivers to manage their own care.
Why is transitional care important?
The goal of transitional care is achieving long-term, positive outcomes for patients. This means that our practitioners provide the knowledge and skills caregivers need to recognize and address healthcare issues as they arise.
Navigating the healthcare world can be difficult. Because of this, transitional care is an invaluable service to patients and families who are moving home or to another care facility.
Our approach to transitional care
Transitional care is not ongoing care, instead our approach helps caregivers and patients manage their own care, while attempting to limit re-hospitalization.
After assessing current medication and care management, our practitioners make recommendations and help caregivers create plans to manage their loved one's care. They also help identify environmental risks, social needs and other areas of support and arrange community services as needed.
If you or a loved one are in need of transitional care, please call 615.941.8550 for more information on our services and staff, or fill out our online referral form.