25 Oct

What is palliative care?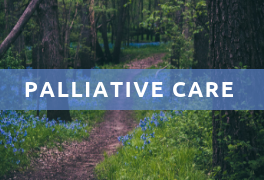 Facing a life-threatening illness or injury is difficult. Patients, family and caregivers may often need help navigating difficult medical decisions and experience fear associated with their diagnosis. Palliative care teams can provide support, care plans and medical management to those who need it.
What is palliative care?
Palliative care is specialized care that is focused on patients who are facing life-threatening or life-limiting illnesses or injuries. Palliative care provides treatment plans for symptom management, as well as helping patients and families set goals for their care.
However, palliative care is not hospice care. Palliative care is not just for patients who are at the end of their lives; instead palliative care practitioners care for patients at any stage in their illness or injury. However, part of palliative care may include education or discussions about hospice care options for those struggling with serious illness.
Why is palliative care important?
Along with providing much needed emotional support, palliative care teams also help patients and families understand disease processes and the effects on quality of life. They can also provide individualized treatment and care options based on the patient's needs.
Our approach to palliative care?
The Advanced Care team practitioners help patients and families understand difficult medical decisions and treatment options; they also provide much-needed emotional and spiritual support those facing a serious illness or injury.
Our palliative care teams support patients, families and caregivers during a serious illness or injury, as well as providing pain and symptom relief and improving quality of life.
If you or a loved one is in need of palliative care, please call 615.941.8550 for more information on our services and staff, or fill out our online referral form.