13 Nov

What is advanced care?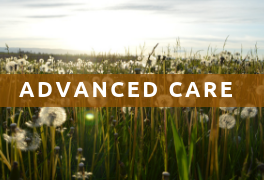 Severe illnesses are difficult on both patients and their families. Facing a serious illness can also be complicated—from treatment options and difficult decisions to finding the right care. Advanced care can help provide the support patients and families need during this time.
What is advanced care?
Advanced care is the medical management and care of patients who have severe illnesses or injuries and who cannot or have difficultly traveling to outpatient clinics for therapy or appointments.
Advanced care is beneficial for the elderly, debilitated or chronically ill and is common for those with conditions such as: chronic obstructive pulmonary disease [COPD], chronic heart failure [CHF], dementia, malignancy or chronic debility.
Why is advanced care important?
Facing a serious illness can be difficult and may involve many complex decisions, painful symptoms and fear. That's why our staff is trained to provide compassionate advanced care, so you don't have face it alone.
Advanced care allows a trained practitioner to provide individualized medical care for the patient's illness and provides caregivers and family members with much-needed support.
Our approach to advanced care
Providing compassionate, individualized care while offering the support patients and their families need is our goal. The medical management and care of advanced care patients is handled by one of our trained clinicians, who work collaboratively with physicians, nurses, pharmacists and others.
The Advanced Care Group clinicians help patients with relief from the symptoms, pain and stress of a serious illness. Our advanced care teams also help patients and caregivers navigate the healthcare system, including through difficult and complex treatment choices.
If you or a loved one believe you qualify for advanced care, please call 615.941.8550 for more information.