25 Oct

What is a caregiver?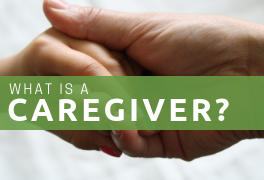 The number of caregivers in the United States has been increasing in recent years. Each year, it is estimated there are about 44 million family caregivers. Many of us will be caregivers for family or friends at some point in our lives, and there are many ways to be a caregiver.
What is a caregiver?
A caregiver is someone who provides care and support to an adult who has a serious illness or injury. This also includes care of aging parents, family members or friends.
What does a caregiver do?
Caregivers can provide support and care in many ways. Caregivers can provide full time care, sporadic care as needed or anything in between. Care support can range from small, everyday tasks to more complex medical management. Here are a few common ways caregivers care for family members or friends:
Buying groceries, cooking, cleaning or doing laundry
Helping with showering, dressing and other everyday activities
Managing medications and scheduling doctors' appointments, physical therapy or other medical procedures
Managing legal and financial aspects of someone's healthcare
Providing transportation to appointments, pharmacies and other needs
Talking with doctors and other caregivers about medical decisions
While there is no "one way" to be a caregiver, the list above is just a few of the activities that are common for family caregivers.
Being a caregiver can be intimidating and difficult, and it can also be emotional. But, there are many services and resources to help you manage your loved one's care, so you don't have to face caregiving alone. For more information on the services we provide, please call 615.941.8550.
Sources: https://www.caregiver.org/caregiving