25 Oct

Staying positive through difficult times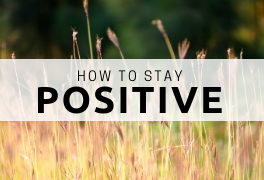 Serving as a caregiver to a family member or loved one who is experiencing life threatening illness or injury is difficult. It is easy to feel mentally, emotionally and physically drained when having to make difficult medical decisions. It's important to remember to also take care of yourself when going through a difficult time and finding ways to bring positivity in your life can be beneficial.
Here are some ways to remain positive when facing difficulties:
Practice a healthy lifestyle. It can be easy when facing a difficult time to neglect your health. However, maintaining a healthy diet and activity level will help keep you healthy and able to care for your loved ones.
Make time for your hobbies. Is there something you love doing? Maybe it's knitting, drawing, reading or physical activity. Engaging in a loved hobby can bring positivity and joy to your life, even during a difficult time.
Remember to breathe. Meditation and deep breathing exercises can help you stay calm and control your nervous system. This can be a very stressful time but remembering to not let stress take a toll on your body is vital.
Join support groups or speak with a counselor. Having the space to speak about what you are going through is very important and necessary. Whether it is support from your friends and family, a support group or therapist, find the time to talk through your thoughts and emotions.
Complicated medical decisions and caregiving are hard but trying to stay positive is important to your overall health and wellbeing.
The Advanced Care Group offers care management and support services, as well as emotional and spiritual support for patients and caregivers. For more information on the services we provide, please visit theadvancedcaregroup.com.