25 Oct

How to reduce stress for caregivers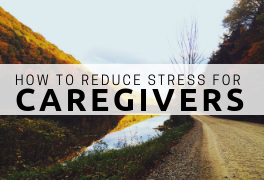 Family caregivers are becoming increasingly common, and indeed, many of us will be a caregiver at some point in our lives. In the United States, there are about 44 million caregivers each year. Caregiving can mean many things, like caring for an aging family member or an adult with a serious or chronic illness or injury.
While being a primary caregiver can be rewarding, it can also be stressful. Because of this, it's important to know ways to help manage and reduce stress. Here are a few tips that can help reduce stress:
Get enough sleep. Getting enough sleep is vital to managing and reducing stress, as well as maintaining good healthy. Most adults need about 7-9 hours of sleep per night.
Remember to breathe. Deep breathing can be a very useful tool for stress management. Taking a few moments to regularly sit or lay down and just breathe deeply can help reduce stress and make you less anxious.
Set realistic goals. Goal setting is an important aspect of stress reduction. Whether it is a personal or a caregiving goal, ensuring your goals are realistic and attainable is vital.
Maintain your personal health. Exercise, at any level, can be beneficial to reduce stress—even light physical activity like taking a walk can lower stress levels. Additionally, eating a balanced diet helps maintain personal wellness, as well.
Connect with resources and other caregivers. Knowing that you are not alone is incredibly important for stress reduction. Connecting with other caregivers and asking for other needed resources can help ease caregiving stress.
Reducing and managing your stress is an important aspect of caregiving. Staying healthy—physically, emotionally and mentally—is vital in your role as a caregiver.
But remember, there are services and resources to help you manage your loved one's care, so you don't have to face caregiving alone. For more information on the services we provide, please call 615.941.8550.
Sources: https://www.caregiver.org/caregiving