25 Oct

How to plan transitional care after hospitalization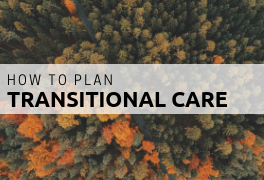 Hospital stays can happen suddenly and be upsetting. Making medical decisions and navigating the healthcare system can also be incredibly complicated. That's why transitional care after a hospital stay is important and helpful for patients and caregivers.
Here are some common questions you may have about transitional care:
What is transitional care and how long is it?
What should I expect as a caregiver?
How do I coordinate home care?
Who do I contact to ask questions and to schedule medical appointments?
What if I need other support services?
Our approach to transitional care
Transitional care helps patients who were recently discharged from a hospital or nursing home. At The Advanced Care Group, transitional care is guided by a clinical point person, who follows patients from hospitals into their homes or next site of care.
The transitional care nurse practitioner begins care management at the time of hospital admission, working with each patient and family caregiver to identify their goals. Across the next one- to three-months, in the home, the nurse practitioner helps patients develop plans to manage their own care and achieve their goals. Using an evidence-based, coordinated care approach, our clinicians provide services designed to keep patients healthy and out of the hospital.
If you or a loved one would like more information on transitional care, please visit theadvancedcaregroup.com for more information.