19 Nov

Dealing with grief during the holidays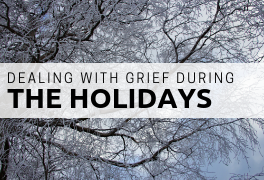 While the holidays can be a time of joy and fellowship, they can also be extremely difficult for those who have lost loved ones. Changing long-held traditions and experiencing the holidays you celebrate without family members or friends can cause grief and sadness that can be hard to deal with.
Here are a few tips that can help you handle grief during the holiday season:
Create new traditions. During the holidays, many families have traditions that are missed when loved ones pass away. Creating new rituals and traditions can help you deal with the grief you're feeling
Surround yourself with people who care about you. Whether it's friends, neighbors or family members, spending time with people who care about you can bring comfort during the holidays. Try not to cancel your holiday engagements and spend time with others who care for you.
Know it's okay to experience your sadness and grief. Allowing yourself to feel your grief, sadness and loneliness during the holidays is okay and can even help you understand and cope with your emotions better. However, if you feel your emotions are out of control, it's always good to speak with your doctor.
Practice self-care. It's always important to take care of yourself, but it can be easy to forget during the stress of the holidays. Make sure you are taking time for yourself to unwind, relax and recoup.
Volunteer or give. Volunteering your time and energy during the holiday season can be rewarding and help you cope with grief. Whether it's working at a food bank, giving to a charity or any other activity, volunteering is a good way celebrate the holidays.
It's important to remember that everyone grieves differently and that the holidays can heighten your grief. However, working through your grief during the holidays is important and necessary to process your emotions.
Sources: https://palliativecare.org.au/youre-not-alone-tips-managing-grief-holidays